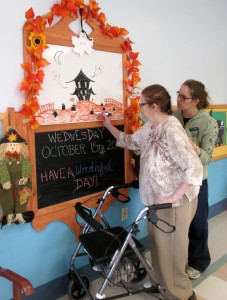 The Sanctuary is our living room.  It feels like home and it nurtures us by bringing people together.  It fosters creativity and helps people to orient to their day.  The Sanctuary encompasses all meanings of the word living.  It is for reflection, meditation, laughing, sharing… It is available to all of our residents and is decorated with their art work.
We now have sensory and cognitive bins and interactive programming in the Sanctuary.  The sensory and cognitive bins are for staff and visitors to use with a resident to successfully engage him/her in a leisure activity, no matter what their cognitive ability is.  Laminated idea sheets are provided in each bin to help educate visitors on the appropriate activity for their loved one.
We have online games to play, Skype capability, ability to use world wide web to travel, watch Netflix movies, listen to all kinds of music.  We have aromatherapy to stimulate or relax the senses.