So many people  and organizations in our community graciously donate time and money to The Center.  We recently received a grant from the Mary McClellan Foundation, Inc. to purchase equipment for our facility and donations from the Weir Foundation and the Reynolds Foundation.  To learn more about these foundations please click on the links below. We are so thankful!
www.marymcclellanfoundation.org/
www.hoosickhistory.com/biographies/HarryWeir.htm
www.hoosickhistory.com/biographies/edithreynolds_LyleS.htm
On February 3, 2016, we were selected to participate in the Foundation for Quality Care's Long Term Care Customer Satisfaction Survey & Quality Improvement Project.  Many thanks to Auxiliary members,  Roger Hall and Martha Baker who were instrumental in obtaining the grant for this project! This program is being funded through the New York State Department of Health. We were chosen as one of sixty sites in New York State.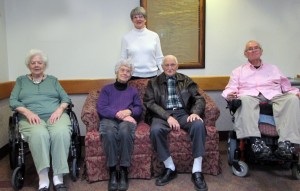 One of the goals that the auxiliary volunteers hoped to meet for 2016 has been achieved. A blanket warmer, which will warm up to 25 blankets at a time, has been purchased at a cost of $4,789. The auxiliary wishes to thank all donors for their support in this endeavor. Thanks to the Henson Foundation, the Reynolds Foundation, the Weir Foundation, our own Foundation and Martha Baker for soliciting a donation from Ed Levin, Inc. and raising $431 on raffle sales. Good things come when all come together for the common good. The Auxiliary and our residents thank you for making this purchase possible.